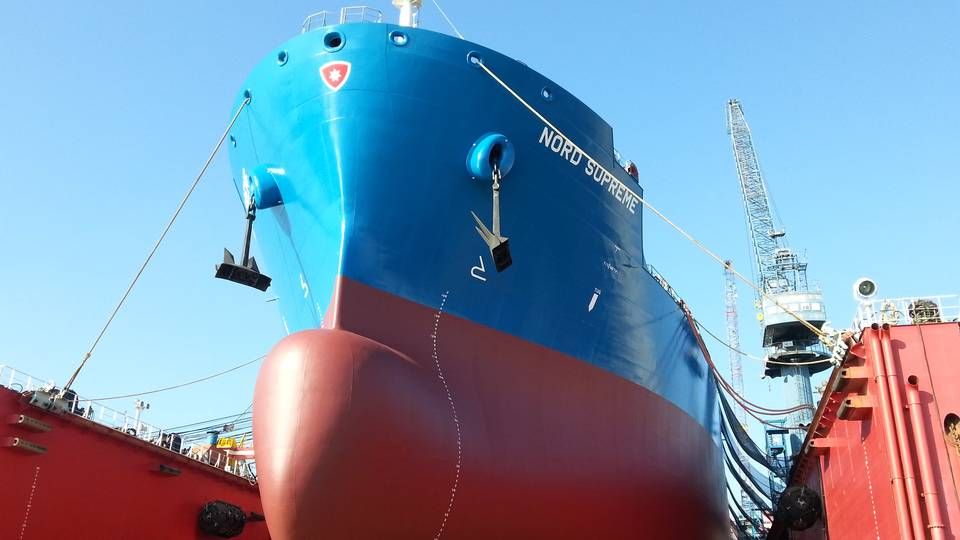 Shipping company Norden increases expectations for the operating profit (EBIT) for 2015 to USD 50-90 million compared to previous projections of a result between minus USD 40 and a surplus of USD 40 million.
The upgrade is attributed to a tanker market that is still characterized by a broad recovery with strong rates in all regions. Based on this, the tanker business is projected to generate an operating result of USD 75-100 million compared to the previous estimate of USD 35-65 million.
China drawing the last air out of the dry bulk sector
"Furthermore, through good operation and coverage, Norden's Dry Cargo Department has secured higher earnings than expected at the beginning of the year, even though the first months of 2015 offered a historically poor dry cargo market. Dry Cargo is now expected to generate an EBIT result of USD -25 to 0 million against previously expected USD -60 to 0 million. Fleet values in dry cargo continue to be under pressure as a result of the challenging markets, and the Company will perform a routine impairment test in connection with the publication of the interim report for the first half-year," says Norden in the statement.
Try a free 40-day trial subscription to ShippingWatch
Meanwhile, Norden downgrades its profit expectations related to the sale of vessels, from USD 7 million to USD 3 million. Capex is expected to be in the range of USD 0-20 million.
"We are currently in a summer market and the rates are remaining at a nice level even though they usually decline during this period. We expect that rates will drop slightly from the current level, but will still be decently above last year's level, and this is why we are more comfortable with our tanker results for this year," says CFO Michael Tønnes Jørgensen to Ritzau Finans.
Try a free 40-day trial subscription to ShippingWatch
However he also highlights that the dry bulk market has improved as well, which has otherwise been a headache for Norden's management for a long time. The market is historically weak with low rates that are putting carriers under pressure.
"We must say that despite being situated in a very challenging market - the worst ever - we have been able to achieve a break-even operating result in the first half of the year," says Michael Tønnes Jørgensen, who expects a deficit of USD 10-15 million in the second half of the year in the dry bulk business.
Tanker sends Norden into the black in Q1
Norden: The strength of our strategy has now emerged
Major shareholder hit by Norden's downturn