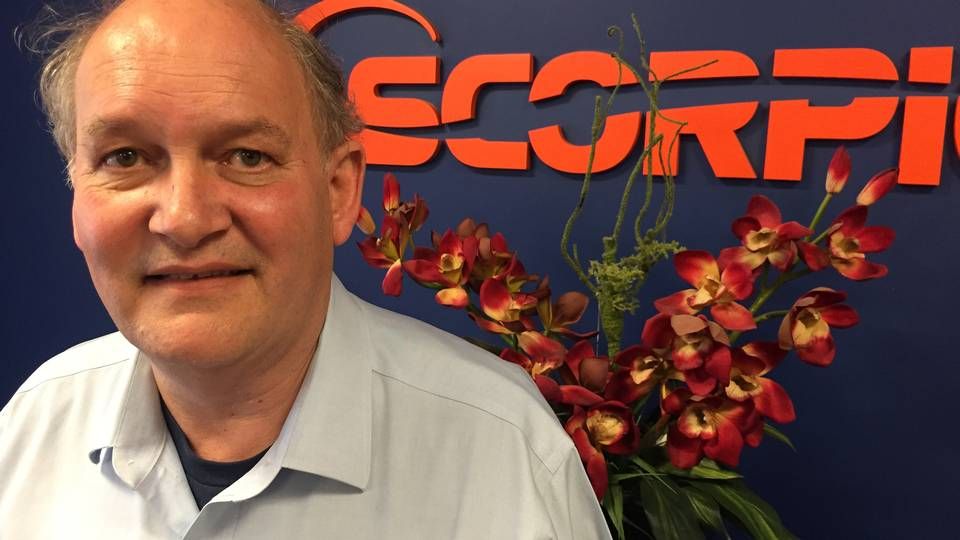 NEW YORK
According to CEO Robert Bugbee, product tanker CEOs need not be concerned when predicting performance, results and return on investment during the next two to three years.
The UK-born head of Scorpio Tankers sees a continuation and strengthening of the market for transportation of refined oil products, which set off in late 2014 when the oil started to plummet.
Unlike some industry stakeholders who argue that the market has peaked and that the softening of the Q1 results seen from companies like Scorpio Tankers only illustrate that the biggest gains in the industry have been made already.
It is a matter of facing up with the unexpected."
Scorpio Tankers is the success story of the Monaco-New York based Scorpio Group, which launched a historically ambitious investment and new building program in 2012 to outmaneuver its peers in the two industries with fleets consisting of modern, efficient tanker and bulk vessels.
Whereas the bulk story has developed completely different, Scorpio Tankers has gained all the benefits a shipowner or operator can hope for. However, Robert Bugbee believes the segment is still able to reap a substantial number of benefits over the next couple of years, he explains in an interview with ShippingWatch.
Two-three year recovery
"I am happy to be in a period with low oil prices. The lower result we saw in the first quarter this year is due to the volatile market right now and to a very warm winter in the Northern hemisphere. It's an exciting market with a huge diversity of cargoes and geographies with an increasing demand for not only refined oil but also palm oil etcetera. With the constraints we see on the capital market right now and the new environmental requirement coming up in 2017, we believe that the upturn in the product tanker industry will prevail the next two to three years," Robert Bugbee says.
Scorpio Tankers published an adjusted result for the first three months of this year of 30.5 million USD compared to 40 million USD in the same three months in 2015.
Ever since the launch of the company, Robert Bugbee has maintained the view that the new fleet, today its average age is down to one year and a half, represents the cutting edge against competitors. Among these are a number of Danish shipping companies such as Maersk Tankers, Torm, Norden and Hafnia. All of these, and crude oil transporters as well, have benefitted from a demand to freight or store cheap oil, but to confident Bugbee, Scorpio Tankers has better cards to play the next couple of years , one of them being a younger fleet prepared for IMO rules.
Also in spite of the fact that average daily rates for Scorpio Tankers' four segments fell to around 20,000 dollars in Q1 from 21,000 in the same period last year.
The biggest pool
"In 2017, a considerable number of ships in the global fleet will turn 25 and some 15. A number of clients will not accept old vessels which don't comply with the environmental rules. We start to get new important legislation in 2017 regarding fuel, emissions and ballast water. That will take another portion of the fleet out of the market. Keeping in mind that the order book is very low, altogether, the perspectives for the product tanker segment are very positive, and we have the right platform to take advantage," Robert Bugbee argues.
By the end of 2017 Scorpio Tankers expects to own a fleet of 87 eco-design product tankers, as the company prefers to call its young fleet.
Currently 76 product tankers are on the water, and 13 vessels are time chartered, mainly on short-term charters. All vessels are employed in one of Scorpio's five pools, one of them operating in crude oil. According to Scorpio's own figures, the company operates the largest number of product tankers with almost 150 vessels. Number two is Norient and number three is Maersk-led Handytankers, which has seen a couple of prominent names leave the pool citing disappointing results.
Resembles an investment company
Some industry players tend to put the label "Investment Company" on Scorpio to pinpoint its prominent role as manager of the capital funds' money and, for some, probably also to distance the company from the established shipping community with its ties to the core business of operating ships.
Obviously, to Robert Bugbee, he sees the opportunities for investors, those who win and those who lose, as a vital element in the Scorpio Engine. Mainly American equity funds have reaped the advantages of ongoing solid results from Scorpio Tankers, but with the fall in share prices, which has affected the whole industry, and to a surprise to many, some have sold off their investments and new funds have entered.
"The falling share price in listed tanker companies, product and crude, has surprised the market. I believe an explanation is that shipping investments have been liquidated among some funds which had a need to lower the exposure in equity. Shipping is often a marginal portfolio which is offloaded first," explains Robert Bugbee.
Beauty and the Beast
Two years ago he referred to Scorpio Tankers as his Beauty, whereas Scorpio Bulkers was already then seen as The Beast. Just as timing was wrong in dry bulk, timing was perfectly accurate in product tankers. Scorpio Tankers remains the Beauty in Bugbee's portfolio, and although the US and Europe are embarking on new and greener energy which excludes fossil fuels, developing countries such as India, China and a continent like South America will ensure that the demand for refined oil will only increase the next years, he says.
Some describe Robert Bugbee as the best salesman shipping has ever known. He denies his positive forecasts are only fluffy words. It is definitely not a free ride either, although the market looks promising going forward.
An ambition to have better performing pools than the peers is an important tool for Scorpio Tankers, which has placed all of its vessels in one of Scorpio's pools. Another could be called a renaming of Maersk'' old motto of "constant care." Or as Bugbee says:
"It is a matter of facing up with the unexpected."
Scorpio Tankers has 11 vessels under construction, three LR2s to be delivered in 2016 and eight MR product tankers to be delivered in 2017.
Scorpio Tankers suffers first quarter setback
Bugbee: Oil companies will weed out aging tanker vessels
Bugbee: Multiple year recovery ahead for product tanker