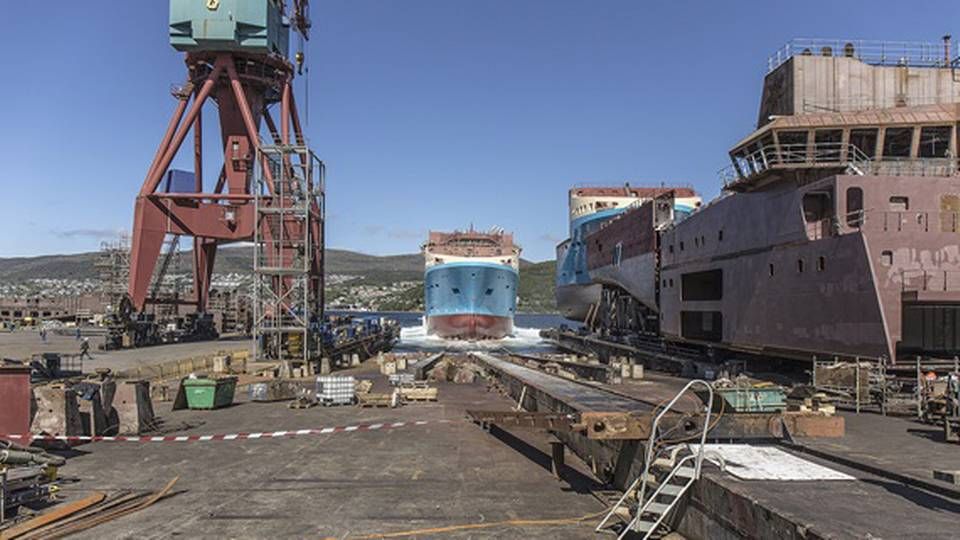 North Korean workers engaged in forced labor may have contributed to building a fleet of top-modern and highly expensive Maersk vessels, confirms the company to ShippingWatch.
Last week, Danish media DR2 Dokumentar and newspaper Information reported that North Koreans doing forced labor abroad have worked on a Danish naval vessel, which was partly built on the Crist yard in the Polish city of Gdansk.
Following the information, we requested and received confirmation from Kleven Verft management that all workers in question had their contracts terminated in July 2016"
But several commercial carriers, including Maersk, have also used the yard.
In 2014, Maersk Supply Service, which is owned by Maersk, ordered a series of six vessels, several parts of which were built at Crist.
The vessel parts were then sent to the main contractor in Norway, shipyard Kleven Verft, where they were used to build the Starfish fleet, an order with a budget of more than DKK 3 billion (USD 474 million).
When Maersk's management became aware of the problem in the summer of 2016, they contacted Kleven Verft immediately.
Kleven then informed Maersk that it was unfortunately likely that North Korean labor was used on the vessels, informs the Danish group.
Maersk Supply still trusts Kleven
Crist was first revealed to have relied on North Korean forced labor by Vice News, with Norwegian media then reporting on the case in May 2016.
At around the same time, Maersk discovered that North Korean workers could have contributed to building the six vessels.
"In June 2016 when Maersk Supply Service was informed about employment issues with a subcontractor to Kleven Verft that is building our Starfish vessels, we took immediate action. Following the information, we requested and received confirmation from Kleven Verft management that all workers in question had their contracts terminated in July 2016," writes Maersk Supply Service to ShippingWatch, stressing that currently, no ships have been built with Crist as a subcontractor.
The Starfish series consists of six anchor-handling vessels. According to Maersk, the budget is over DKK 3 billion. The vessels have since been the focus of a Discovery Channel series.
However the case has not made Maersk Supply Service terminate its collaboration with Kleven Verft, one of Norway's biggest shipyards.
"We trust Kleven Verft to ensure that all HSE and social responsibilities are met for their own personnel and contractors," says Maersk Supply Service.
Tasked with hazardous welding tasks
The case of the North Korean workers surfaced again this week, with DR2 and Information reporting that North Korean forced laborers may have participated in the construction of Danish naval vessel Lauge Koch.
According to Polish yard workers speaking to DR, the North Korean workers were tasked with hazardous welding tasks because their small stature enabled them to enter tight spaces.
Danish taxpayers thus indirectly funded the nuclear program in North Korea because the forced laborers allegedly sent their wages home to the military regime, according to experts.
The Danish Ministry of Defense first became aware of the suspicion in September 2016. However, according DR and Information, the armed forces chose to only investigate the inquiry superficially.
Information has since reported how vessels owned by several Danish shipping companies appear on a reference list for the company Armex, which provides the North Korean labor.
English Edit: Lena Rutkowski
Media: North Korean workers used on Danish naval vessel
North Korean tankers loading oil in Russia