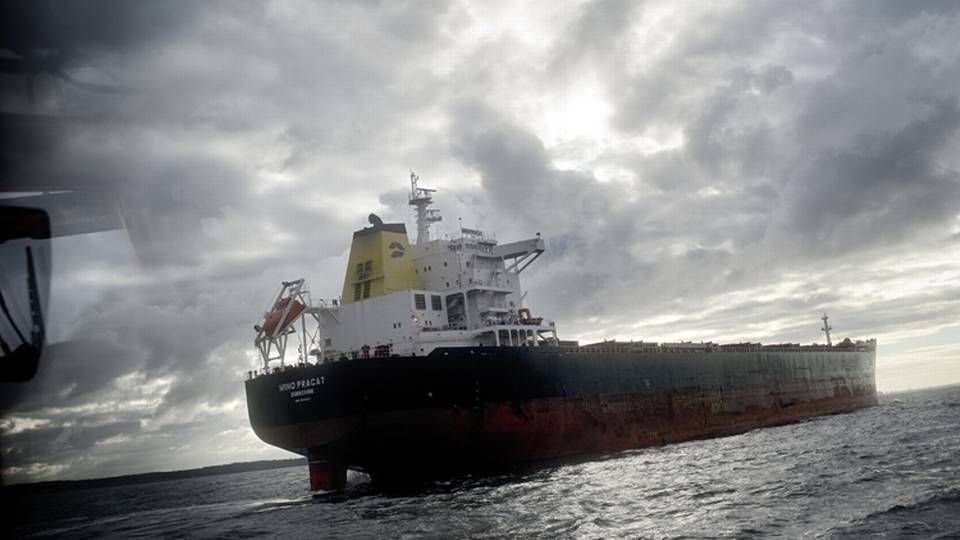 IMO has agreed on a deal to at least halve the emissions of CO2 by 2050, after which it must be completely phased out, well-informed sources tell ShippingWatch.
From 2030, each individual vessel must reduce its emissions with 40 percent irrespective the development of world trade.
The conclusions are apparent from this photo of the end document: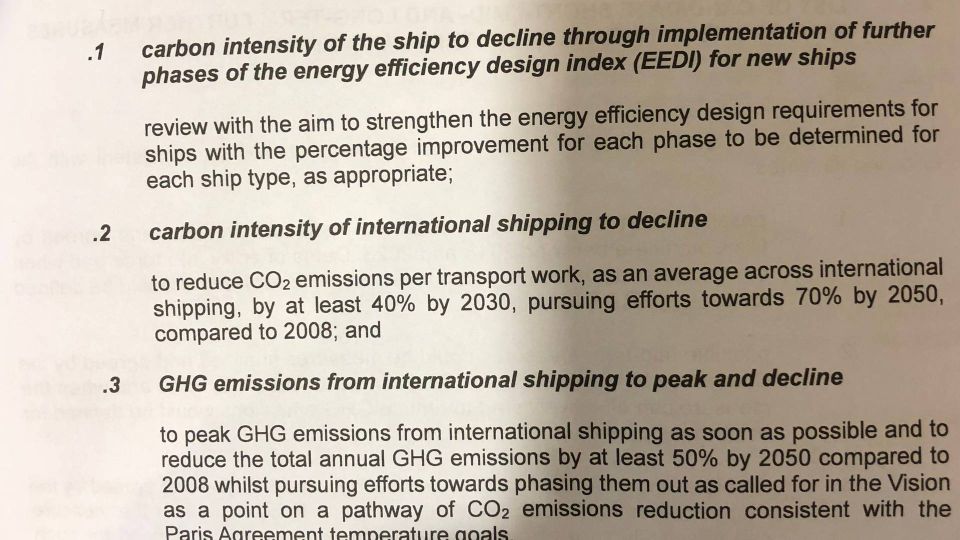 Here are the first reactions from ICS: "The Paris-agreement of shipping"
And NGO, Transport & Environment, here.
Danish Shipping, here
Ambitious result
In a statement, John Bang Kornerup, Head of Sustainability Strategy & Shared Value, Strategy and Shared Value Projects, A.P. Moller – Maersk who attended the meetings this week, says the following:
"This week the UN International Maritime Organisation took a crucial step forward in the efforts to limit green-house gas emissions, aligning global shipping with the Paris agreement and its temperature goals. The agreement aims to reduce CO2 emissions from shipping by at least 50% in 2050, with an ambition to phasing them out completely.
A.P. Moller - Maersk is committed to play its part in combating climate change as outlined in the Paris Agreement, with an ambitious target of reducing CO2 emissions by 60 %, per container moved, by 2020 (2007 baseline). We have made a good progress with 43% reached so far, however efficiency measures are drying out.
We welcome the new ambitious results, which provides a much needed and important policy signal that will help accelerate investments into low carbon solution in shipping. Shipping moves 80% of global trade and is the most energy efficient way of transporting goods. As such shipping plays a crucial role in creating growth, jobs and opportunities across the global economy. Low carbon technologies are needed to ensure shipping can continue to fuel the global economy in a future low carbon world."
11th hour of IMO summit points to 50 percent reduction target for shipping emissions
Fears of diluting CO2 targets in the IMO at crucial point in time