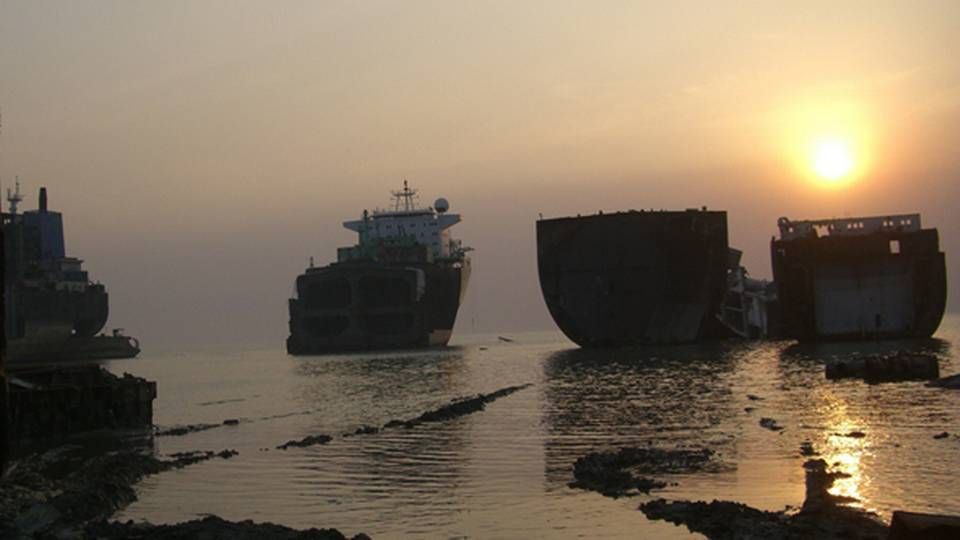 A total of 213 vessels were sold for scrap in the second quarter of the year. 136 of these ships were sent to be scrapped at the controversial beaching yards in Southeast Asia where the ships are often broken down under deplorable and dangerous conditions.
And almost two thirds of all the EU-flagged ships that were dragged onto the beaches in India, Pakistan and Bangladesh were sent there by Greek shipowners, reports the NGO Shipbreaking Platform in its newsletter South Asia Quarterly Update.
The Greek shipowners sent a total of 27 vessels for scrapping to Southeast Asia in the second quarter 2015, compared to 30 ships in the previous quarter. German shipowners rank at second place with just 4 ships sold for beaching in the region.
"No Greek shipping company has sold any ship to other yards than those operating on the South Asian beaches, which demonstrates Greek ship owners' clear lack of interest for the potential impacts of their decisions for unprotected workers and the environment," writes Shipbreaking Platform, which scrupulously monitors the controversial scrapping of ships on the beaches of not least India and Bangladesh.
European shipowners control 40 percent of the global fleet and Greece takes the lead as the biggest shipping nation in the EU. For this reason, the country has a particular responsibility when it comes to ensuring environmentally friendly and orderly shipping, highlighted a number of NGOs - including Shipbreaking Platform - after a meeting with figures such as the Greek Ministers of shipping and the environment back in May this year.
"Greek ship owners have for many years been the worst dumpers of end-of-life vessels sold to substandard shipbreaking yards. In order to reverse this trend, we expect the new Greek government to hold its ship owners responsible and in the future to direct Greek-owned end-of-life vessels to EU-approved ship recycling facilities," said Patrizia Heidegger, Executive Director, NGO Shipbreaking Platform, in a statement after the meeting.
Days are numbered for beaching
Alang is the largest beach for scrapping of ships, or so-called beaching in Southeast Asia, and along with other scrapping giants in Bangladesh and Pakistan, it handles up to 70 percent of the scrapping market. The scrapping facilities in the Southeast Asian cluster are subject to massive criticism from a number of environmental organizations which fight for responsible working conditions for employees as well as for a more safe environmental approach to scrapping.
In the period from April to July 2015, Shipbreaking Platform has noted a total of six fatalities at yards in Bangladesh alone.
However, the controversial scrapping beaches now seem to be facing a dark future, and especially Alang in India is fighting for survival.
But the development in China, where lower economic growth means that the country is selling steel far below the prices that are offered in Alang for instance - combined with the recently passed EU regulations regarding correct scrapping - means that part of the scrapping industry in Southeast Asia will presumably go bust.
The number of scrapped vessels in Alangs hit a six-year low last year when just 275 vessels met their fate on the beach. And so far in 2015, only 54 vessels have been scrapped in Alang.
Scrapping yards in Alang are shutting down
NGO: Greeks and Germans top list of beach scrapping
NGO: Carriers continue irresponsible scrapping