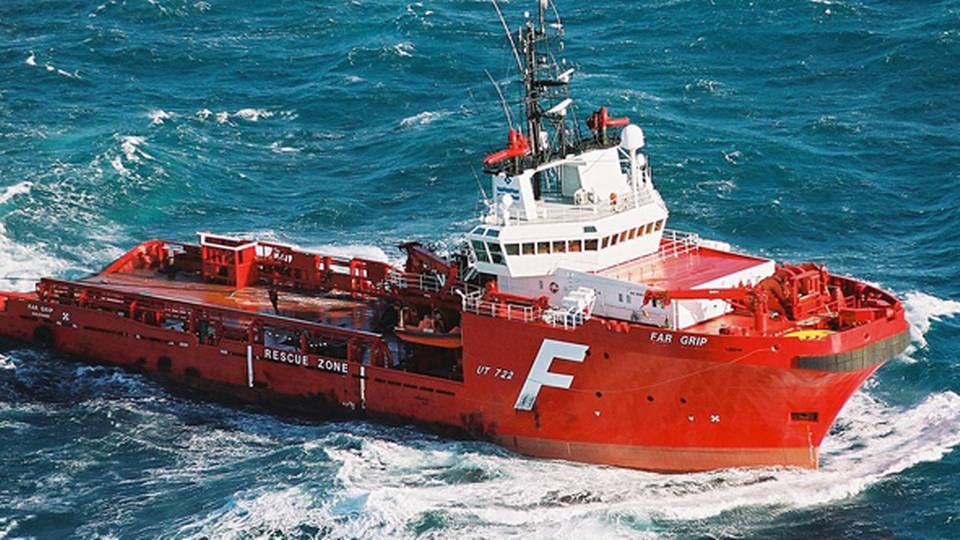 The rates for anchor handling tug supply vessels (AHTS) in the North Sea have dropped below the almost intangible limit of GBP 10,000 per day, according to the latest figures from shipbrokers and analysts Clarksons Platou, a fact that more than confirms the serious difficulties faced by the entire sector for supply vessels as a result of the falling oil price.
The current level should be viewed in light of that fact that ships sailed for daily rates of over GBP 100,000 less than 1-2 years ago, and that this was typically for 14 days at a time.
Try a free 40-day trial subscription to ShippingWatch
In the industry, the current rate level in the North Sea is compared to the situation in the latter half of the 1980s. Meanwhile, industry sources estimate to ShippingWatch that it will take between three to four years to reach a somewhat decent balance in the market.
Besides idling ships in the Danish, Norwegian and British sectors, several owners have been left scrambling to build financial buffers. For instance, Siem Offshore raised USD 100 million last week in fresh capital through a share issue.
The fresh capital will be used to prepare Siem Offshore for a sharply declining share level. Primary shareholder Kristian Siem expects that more ships will be idled next year.
"It seems highly unlikely that the activity level will remain at a level that is sufficient to finance payment of bank loan installments, and this will result in lower equity. We project a long-term downturn, which means that we have to reduce our debt,," said Kristian Siem.
Significant rate slide in July
According to Clarksons Platou's August issue of Global Support Vessel Monthly, rig-moving activities decreased towards the end of July. The same applied to the rates as the number of ships in the Norwegian and British continental shelves increased. As a consequence, the average daily rate for AHTS tonnage fell between 35.7 and 55.0 percent, depending on ship size and specifications.
Try a free 40-day trial subscription to ShippingWatch
Among so-called PSV ships - Platform Supply Vessels - the summer brought few changes to the daily rates, which sat between GBP 3,500 and GBP 4,750. This was actually a modest increase that looks set to continue as several vessels are idled and pulled out of the North Sea. Only four PSVs were taken out over the course of July, with a very limited impact on the overall supply of these vessels.
Overcapacity in 2016
The forecast for overcapacity increases of up to 20 percent in 2016 will force even more people to take vessels out of the market, said Erik Tønne, head of analysis at Clarksons Platou Offshore, when speaking to ShippingWatch before the summer. He predicts that overcapacity in 2016 will probably sit at around 20 percent in the North Sea.
All the major players in the North Sea have idled ships in the past months.
Try a free 40-day trial subscription to ShippingWatch
The low day rates in May 2015 spurned Maersk Supply Service to pull another two ships out of the North Sea, on top of the two already pulled out by the carrier. According to Søren Karas, Commercial and Strategy Officer at Maersk Supply Service, additional idling cannot be ruled out.
A few days ago, Deep Sea Supply pulled out PSVs in the aftermath of the moves to idle vessels by companies Siem Offshore and Farstad.
The Norwegian offshore carrier Solstad presented its half yearly report on 25 August, which revealed that 300 employees had been laid off and 10 more ships had been idled than planned.
SeaIntel: Too many ships in the water during Golden Week
Deep Sea Supply idles offshore vessels
VLCC rates soar 35 pct in one week