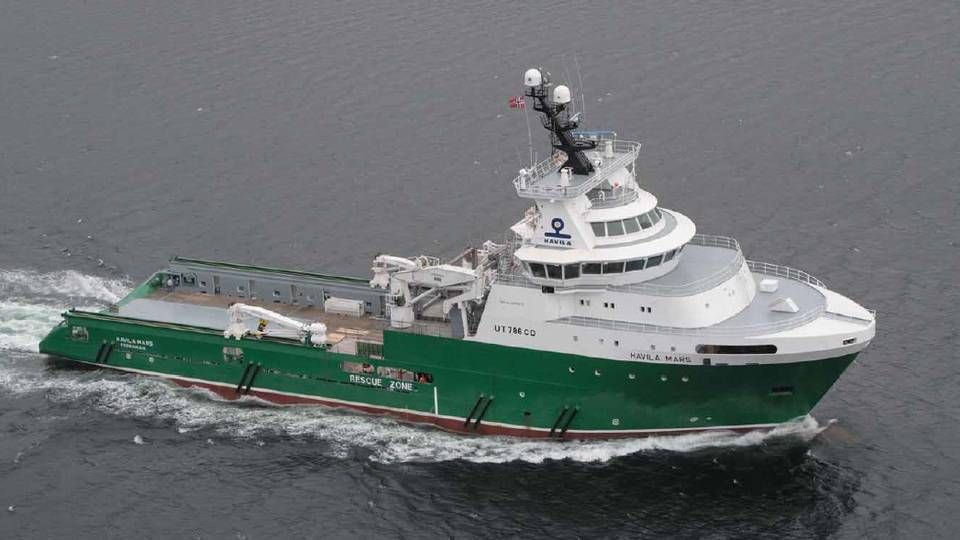 Article updated at 1.49 pm CET to reflect the bondholders' decision
Norwegian offshore carrier Havila Shipping looks to have dodged a bankruptcy at the last possible moment.
Last week the company received a letter from its banks declaring the debt defaulted. This came after bondholders rejected a rescue plan for the heavily indebted carrier.
But Havila Shipping now seems to have succeeded in getting its bondholders to approve the plan. A few hours before the deadline was set to expire by 3 pm CET on Monday, the company informs that the creditors have cleared the restructuring proposal.
"The company is pleased to announce that it has received support from more than 2/3 of the outstanding bonds across all bond issues. The Company will proceed with summons for bondholders' meetings," says the carrier in a brief to the Oslo Stock Exchange.
Judging by the share price development of Havila Shipping on the Oslo Stock Exchange on Monday morning, when the share increased close to 20 percent, certain investor circles seemed confident that the carrier would dodge the latter scenario. At least for now.
Havila Shipping: Risk of bankruptcy
The banks put severe pressure on the bondholders last week when they announced plans to accelerate their claims under the current respective credit agreements. Briefly put, this means that the banks will declare the debt defaulted.
Havila Shipping has an interest-bearing debt of NOK 5.2 billion, or around USD 607.4 million, while the carrier's equity is gone. If the rescue plan is approved, this debt will be reduced to NOK 3.7 billion.
Havila Shipping has spent most of 2016 working to settle a rehabilitation plan for the carrier, but the company has so far needed approval from bondholders in order to complete the process.
Banks looking to declare Havila's debt defaulted
"In relation to the contingency plan referred to in said stock exchange notice, [the company would, -ed.] like to clarify that the likely alternative in the event that the Restructuring Plan is disapproved by the unsecured bondholders, is bankruptcy," informed the company in a recent brief to the stock exchange.
Havila Shipping controls a fleet of 27 vessels, including anchor handling tug supply (AHTS) vessels and platform supply vessels (PSV). The company is operated from its headquarters in Fosnavåg in Norway and has offices in Brazil and Asia.
Havila Shipping extends two contracts
Supply carriers face a bitter North Sea winter
Havila Shipping presents huge restructuring deal
Havila CEO: Offshore owners must abandon ownership principles