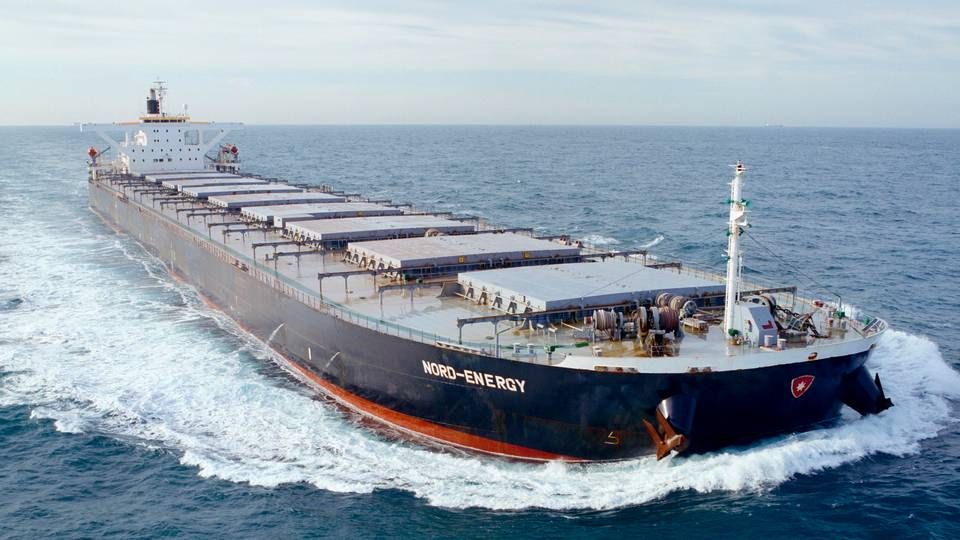 Major dry bulk carriers such as Norden and Pacific Basin seem headed toward a questionable 1st quarter 2014, according to analyst RS Platou Markets, due to turbulent conditions on the Atlantic, where the two carriers are heavily exposed.
The spot rate for the large dry bulk vessels, Capesize, dived to USD 16,200 per day on Monday, corresponding to a 17 percent decline compared to last week, says Platou Markets.
Do you want to stay up to date on the latest developments in International shipping? Subscribe to our newsletter – the first 40 days are free
Panamax currently operates under extremely difficult conditions on the Atlantic, with rates registering as low as USD 2,800 per day, a development attributed to a vast surplus of ships and a delayed peak season in South America. Meanwhile, there are rumors in the market that Chinese shippers are canceling contracts, which contributes further to the negative sentiment, meaning that operators continue to suffer, says Platou.
Pacific Basin: Bulk on the edge of a turn-around
"We expect improved conditions going forward, however. The mini-stimulus announced from China last week to fast forward infrastructure plans to keep economic growth at 7.5 percent could mean accelerating steel production for the remainder of the year," says Platou, referring to the fact that China's steel production increased less than two percent on average, while the production is now expected to improve by 4-5 percent, as China's GNP has grown 7.5 percent. According to Platou, this means that Capesize rates - isolated - could improve by USD 4-5,000 per day from today's levels.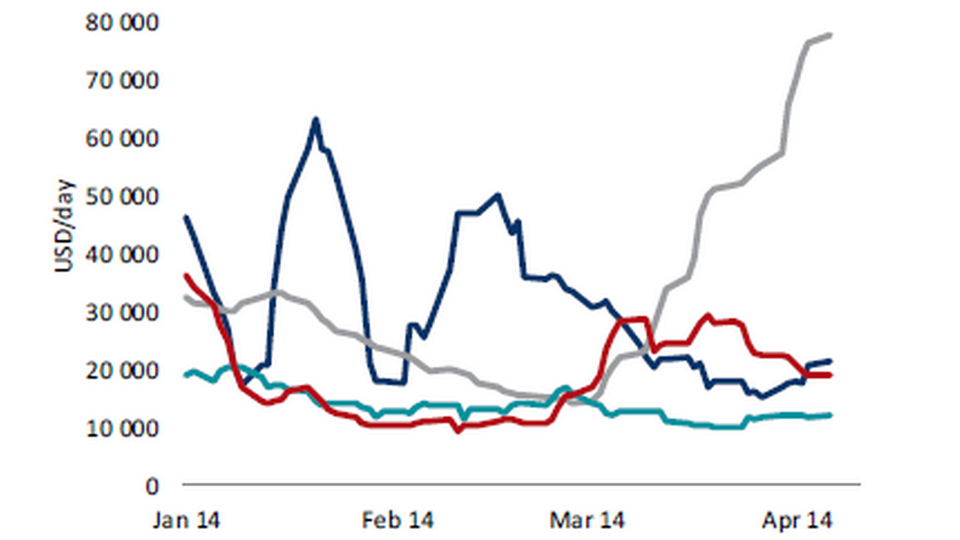 Source: RS Platou Markets
Phasing out old contracts in the 4th quarter 2013 wound up too costly for Norden in the past year, and CEO Carsten Mortensen readily admitted that the past quarter was terrible for the carrier.
"We pretty much hit the mark for the year as whole, but this was a very bad quarter for us, and absolutely unsatisfactory," Carsten Mortensen told ShippingWatch on March 11th following the publication of the carrier's annual report 2013, which showed a deficit of USD 48 million.
"The Atlantic was extremelty strong, but we didn't have sufficient available capacity to benefit from it. There was much more cargo to transport in this market, and the rates were very, very high. And some of this also rubbed off on the 1st quarter," said Carsten Mortensen.
Do you want to stay up to date on the latest developments in International shipping? Subscribe to our newsletter – the first 40 days are free
Norden suffered USD 48 million deficit
Norden to gear investments in new strategy