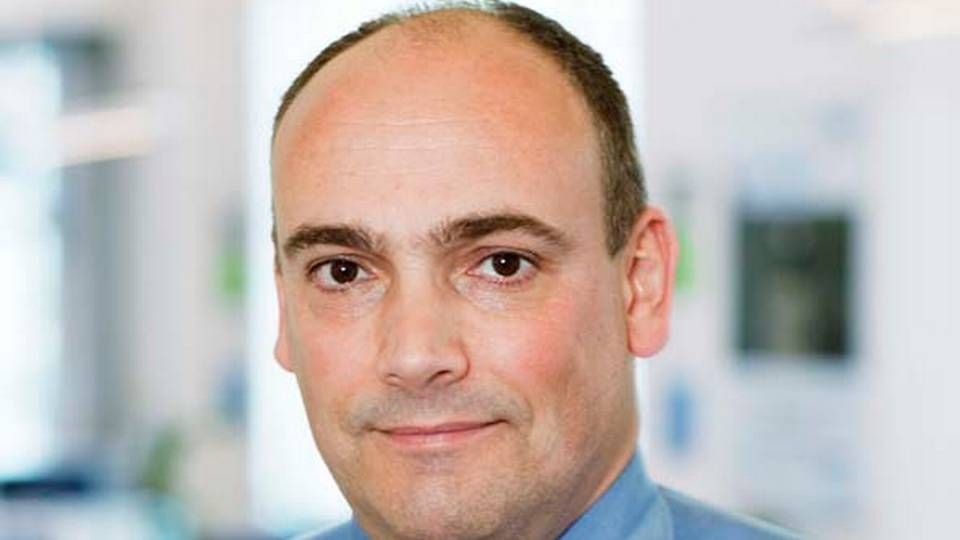 HAMBURG
Hapag-Lloyd might just be one of the next large container carriers to place orders for the very large vessels which many players in the container industry are opting for these days as a tool for lowering unit costs. This is the statement from CEO Rolf Habben Jansen, in an interview with ShippingWatch, following the presentation of the carrier's results for 2014, which he describes as a tough year for the carrier.
However, 2014 was also a year where the foundation for the future was laid down, he says. This foundation is based on the integration of Chilean CSAV and an internal optimization program, both of which are expected to deliver savings and earnings amounting to hundreds of millions of dollars this year. Meanwhile Hapag-Lloyd is currently renewing the fleet, where an impairment of 16 old container ships, along with the CSAV merger, constitute the main reason for the giant net deficit of USD 656 million.
Over the next few weeks, Hapag-Lloyd will reveal an order of five container ships for the moment. Rolf Habben Jansen declines to go into details on where in the world the ships will be built, but he explains that the final negotiations are taking place currently.
Up to 12,000 teu
"We are looking at the services between Europe and Latin America. When the Panama Canal opens with its new lock, ships with up to 12,000 teu will be able to pass. This is the size of vessels we are talking about," he says.
Read ShippingWatch for free for 40 days
"I don't want to elaborate on the investment volume, since we are still negotiating the price with the yards. But we have received a mandate from the board, so if we reach the result that we want then we will be able to order the vessels. Based on our capital structure it would be possible."
Following the merger with CSAV and a cash injection from the major shareholder Kühne Maritime of USD 120 million in December last year, Hapag-Lloyd currently has a net capital of USD 4.6 million and liquidity reserves of over USD 997 million, according to the annual report.
"This is very important for container shipowners, if you plan on investing in the future. Liquidity has improved and the company's structure is very strong with three major shareholders Kühne Maritime, HGV ((Hamburger Gesellschaft für Vermögens- und Beteiligungsmanagement) and CSAV. These are three partners, which will be committed for the next ten years and will support us. This is very important," said Rolf Habben Jansen during a presentation of the annual report.
The large vessels
Another important factor on the road to positive results is the cooperation with the partners in the G6 alliance. And within the next five months, the six carriers will presumably have prepared a new five-year plan, says Habben Jansen to ShippingWatch:
"There is a discussion in G6 for the five-year deployment plan. It is important to agree on, who will invest in what. This agreement is getting closer. It is important, because if the partners agree on what to do over the next five years, it will bring the alliance closer together and provide clarity on who should allocate money where."
What will Hapag-Lloyd's role be in this?
"This is still being discussed. But most likely, we will invest in a number of ultra large vessels. How many and exactly when, is what is currently being discussed."
And these are vessels of up to 20,000 teu?
"Yes," says Rolf Habben Jansen.
SeaIntel has previously pointed to the partners of the G6 possibly having trouble agreeing in the future, since the deal is only for two years compared to other alliances, such as 2M, which have longer contracts. But Hapag-Lloyd needs the alliance to be able to compete with the others, highlights Rolf Habben Jansen.
"If you look at what they are contributing with, compared to unit costs, pretty much all alliances provide about the same thing. The good thing about G6 is that we are represented well in all trades, where some of the other alliances have a very strong presence in one trade and a much smaller presence in other trades. I am pleased with the fact that G6 is well balanced between the Pacific, the Atlantic and the Far East. For us, the advantage is that this puts us in a more competitive cost position."
The beginning of 2015
According to Habben Jansen, Hapag-Lloyd has started this year on a positive note with improved profits compared to 12 months ago. But the market is what it is, he says. The good news is that the industry grows every year and "it always surprises me, that there are so many companies struggling with an industry that grows 3-4 percent every year," he notes.
"With an industry in growth it should be possible to make money."
Merger with Hamburg Süd on standby
The merger with CSAV has made Hapag-Lloyd stronger in the South American market, which several carriers including Hamburg Süd and CMA CGM are also betting on. With this, the expectations of a further cooperation with these two and other carriers are big, as the carriers will offer a number of new products between Asia and South American from July this year. These services will employ over 50 vessels, 20 of which will be delivered by Hapag-Lloyd, including seven new 9,300 teu vessels from CSAV.
With this, it seems like a merger between Hamburg Süd and Hapag-Lloyd is finally shot down, especially considering Hamburg Süd's purchase of a Chilean player:
"I don't think it is likely, that we will be discussing with Hamburg Süd in the foreseeable future. If you put Hamburg Süd and Hapag-Lloyd together today, then we would be very dependent on that part of the world - Latin America. They acquired a company and we acquired a company, so the logic has changed compared to some years ago. So it would be a strategical problem to get approval from authorities, because the combined market share would be too big on several trades," says Rolf Habben Jansen to ShippingWatch.
IPO
Another theme for the future of the carrier is a potential IPO, and this is still in the pipeline. But the first priority is to become profitable, emphasizes Habben Jansen. In 2015, Hapag-Lloyd will definitely present a positive operational result and in 2016 the bottom line must also be positive, he says about the ambition of the company.
"We are strongly focused on this. The deal with the shareholders is for 12 months after the merger and we are communicating with them to see what is possible and what isn't. But I can't present anything concrete. The deal with the shareholders is still there, and I think that we all agree that we are on the right track with Hapag-Lloyd, so we also need the right price. If it takes three or six more months, then that's the time we will use," says Rolf Habben Jansen.
CSAV provides new CFO for Hapag-Lloyd
SeaIntel Consulting: Hapag-Lloyd faces huge challenge