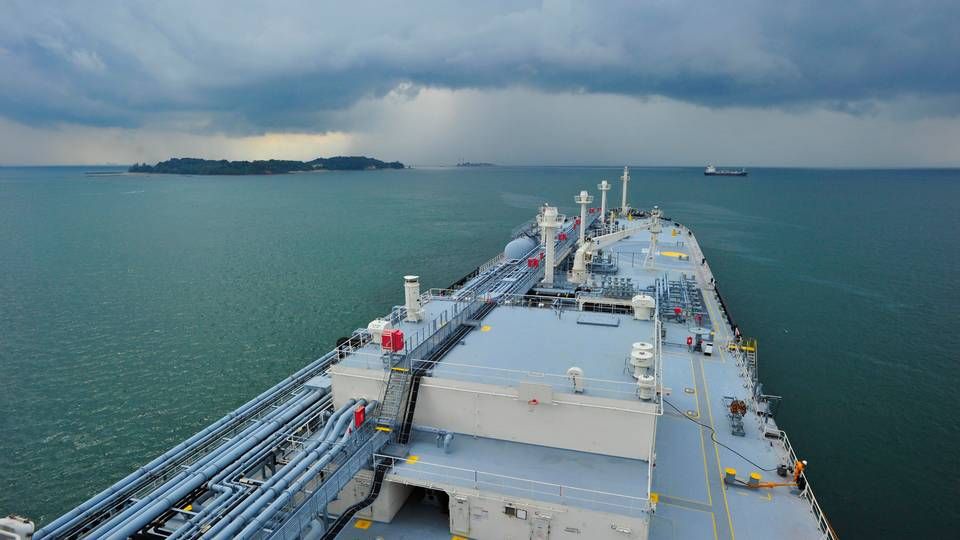 Interest in Norwegian gas carrier Aurora LPG, which is listed on the Oslo Stock Exchange, has intensified significantly within the past 24 hours. With similarly Norwegian Avance Gas in mid-November showing its hand and announcing its plans to pursue a takeover of Aurora, the biggest carrier and owner of VLGC vessels, BW LPG, has now also announced its rival with a late-night share purchase boosting its stake in Aurora from 1.79 percent to now 12.13 percent.
As such, the race to control the biggest gas vessels - which have for more than a year now represented one of the standout positives in an otherwise struggling shipping market - seems to have begun. While numerous new VLGCs have been deployed this year, from carriers including Avance as well as another major player, Dorian LPG, the current orderbook will likely require a degree of consolidation among the gas carriers, according to several observers.
And in light of the developments surrounding Aurora, it looks like this process may have been kicked off - though BW LPG CEO Martin Ackermann explains that one should not read too much into the timing of the carrier's purchase of shares in Aurora.
"But we're continuously following the market, and we saw an opportunity to make an investment that gives us a solid cash flow and generates value both in the short and long term. And I also think it's important to point out that we're making an investment without adding further to the already bulging orderbook," he tells ShippingWatch.
"It's not because we're not positive toward the trade growth within the LPG sector, but the orderbook for next year stands at 23 percent, and the global VLGC fleet will reach 200 before the turn of the year, so there are quite a lot of ships set to the water."
Did you bear Avance Gas' attempt to acquire Aurora in mind when you made this decision?
"How this fits or doesn't fit, that's probably something you should talk to Avance about. I'd rather not speculate on this matter," says Martin Ackermann.
However, analyst agency Pareto is more than ready to speculate. In a new analysis, the firm takes a closer look at BW LPG's purchase of shares in Aurora.
"By the looks of it this is strategic move from BWLPG's side (and a brilliant one as well) – a position that prevents Avance from buying Aurora and that way enter the COA-market that BWLPG has reasonable control of today," notes Pareto, referring to contracts that follow prices in the spot market, contracts of affreightment.
I think consolidation is very important for the market going forward. We would of course like ourselves to consolidate with Aurora, but if the Aurora fleet ends up with BW or elsewhere, that would also represent a consolidation which is overall positive.
Offer still stands
At DNB, however, analysts are less certain that the battle is over. And Avance Gas CEO Christian Andersen does not seem like a defeated man when ShippingWatch gets him on the phone. He is self-avowed optimist, and the fact that the Aurora board of directors unanimously recommends its shareholders reject Avance's bid does not seem to worry him.
"The board controls a marginal stake in the company. We are in talks with all the major shareholders, and some are positive while others are more on the fence. It's as one would expect in a situation like this," he says.
Christian Andersen still views Avance Gas' bid on Aurora as fair, as the value of Aurora has been calculated in all conceivable ways, he explains. Even regardless of the fact that competitor BW LPG now seems to be expressing a clear interest in Aurora as well. In any case, Avance Gas will not raise its offer, he stresses:
"We have a responsibility to our existing shareholders, so we're not about to enter a bidding war," says Christian Andersen, who declines to comment in which factors could be behind BW LPG's sudden share purchase.
He has for a long time been a top advocate for consolidation in the gas sector, and if Avance Gas cannot acquire Aurora, he would rather see BW LPG take over the company than have it continue on its own.
BW LPG picks up major stake in Aurora LPG
"I think consolidation is very important for the market going forward. We would of course like ourselves to consolidate with Aurora, but if the Aurora fleet ends up with BW or elsewhere, that would also represent a consolidation which is overall positive," he says, explaining that a potential BW acquisition could have a positive impact on Avance.
Where Christian Andersen has no problems discussing consolidation, BW LPG's Martin Ackermann declines to comment on the gas carrier's strategic direction going forward, as well as other potential investment plans.
"We are overall positive toward any general consolidation in the shipping industry," he says, adding that the VLGC rates in 2016 will normalize somewhat due to the high number of ships delivered to the market.
In this light, the investment was adequate and of a size that "fits with the risk exposure we're comfortable with," he says.
Better with the big players
When Avance Gas would rather see BW LPG walk off with Aurora than have the carrier continue on its own, the explanation is, briefly put, that it is a matter of how players in the market act when and if the market changes and rates for the major gas vessels reach a more normal level. With a combined VLGC fleet that looks set to reach around 250 vessels by the end of 2016, the market will - in Christian Andersen's words - be "extremely fragmented" without consolidation.
"It's always preferable to have few major competitors, who behave rationally, rather than a plethora of smaller competitors," he says.
And if the plans to acquire Aurora fail, there are still other interesting acquisition candidates in the market, adds Christian Andersen.
"We're talking to all players in this segment, and some of these talks go farther than others. So if things don't pan out with Aurora, we'll take it easy and keep working on other possibilities," he says, explaining that no companies are too small or too big to be interesting.
"We're interested in everything that can contribute to building a big and powerful company."
Aurora rejects Avance Gas takeover bid
"We have made a very good offer for Aurora"
Avance Gas looking to acquire Aurora LPG