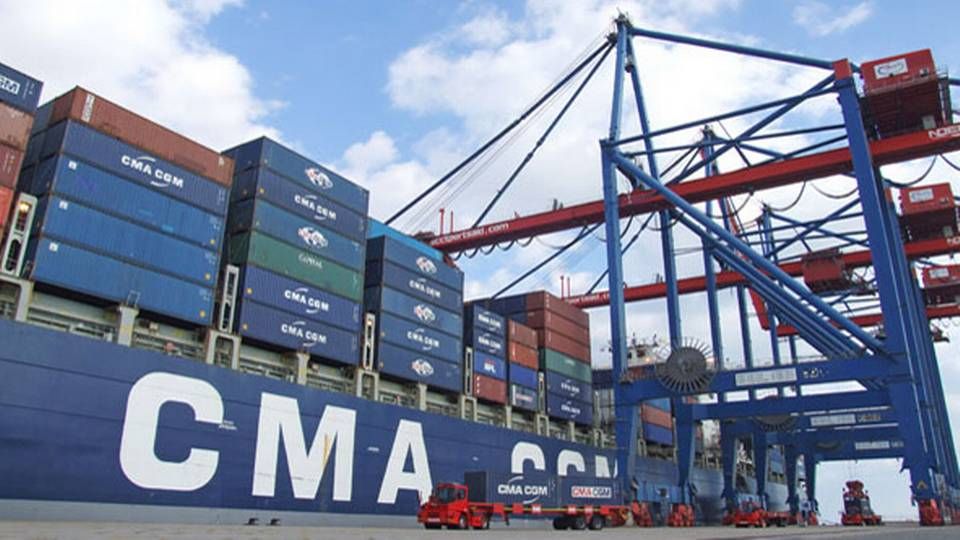 The major port terminal companies, as well as port authorities around the world, are facing massive billion dollar investments as the new mega ships are delivered. Right now Maersk Line's first 18,000 teu ship is on its maiden voyage, having departed from the shipyard in Korea. And before that, it was CMA CGM's 16,500 teu series with ships such as Marco Polo, which require wider berths, bigger cranes, and greater water depth. And increased logistics on land in order to receive and forward the many containers.
Do you want to be kept up to date with the latest developments in Danish and International shipping? Subscribe to our newsletter – first 40 days are free
But according to the world's third-largest terminal operator, DP World, the major ports on the main route between Asia and Europe aren't the only ones where investments will have to be made, or have been made. Because, as the new ships are inserted onto Asia-Europe, many of the current ships on the route will become superfluous and will have to find employment, cascaded, elsewhere. These would often be container ships of 10,000 to 13,000 teu, which will have to work on trade lanes such as Asia-Africa, Europe-South America, or on internal traffic in Asia. But many ports won't be ready to receive ships of that size, meaning that preparations are already underway for new, capital-intensive investments in the port network around the world in order to make room for the ships.
Challenging for the whole sector
"The new mega ships, such as Maersk Line's Triple-E, create a series of challenges. Not just for DP World, but for the whole sector. Ships of up to 12,000-13,000 teu will be inserted onto other routes as the new mega ships are inserted onto Asia-Europe. I think it's a development we'll see in all the main ports around the world within a period of 2 to 3 years," says Flemming Dalgaard, Senior vice president & Managing Director, DP World Europe Regional Office, to ShippingWatch.
DP World has already performed massive investments in its port network between Asia and Europe in order to be able to receive the new mega ships. This includes both the Asian ports as well as ports in Rotterdam and London. In the new major port in Rotterdam, Maasvlakte 2, DP World, together with the four carriers MOL, HMM, APL, and CMA CGM, will invest around 700 million euros in new facilities and equipment. And in the new, huge English container port, London Gateway, in the Thames, DP World plans to invest around 1.5 billion GBP in a combined port and logistics park. Both facilities had to be constructed regardless, but they've now been furnished according to the new mega ships, whose requirements include cranes that can work across layers of 10 containers stacked on top of each other, as well as water depths of up to 16.5 meters.
New cranes for the ports
"There are massive requirements for the ports and the companies that operate them, especially when the port is upriver. In the Port of Hamburg, there are a lot of environmental considerations to keep in mind, as well as the fact that many ports weren't designed to have ships of 400 meters turning around in the port basin, and many ports don't have berths wide enough to support ships of that size," says Flemming Dalgaard.
Another challenge that comes with the arrival of larger ships is whether the underlying infrastructure is sufficient. Is there enough railroad capacity? Are there enough highways? Are the veterinary authorities sufficiently staffed when the amount of incoming reefer containers doubles?
In Europe, in addition to the ports in Rotterdam and London, DP World has installed or is installing new cranes in the ports of Antwerp, Le Havre, and Southhampton. But the company already knows that futher upgrades will have to be made, for instance in the Port of Marseille.
"We have to look at the needs practically everywhere in the time to come, in order to make sure that we're ready to handle the new, bigger ships. But we believe that we're well-equipped to handle the challenge in most of our container terminals," says Flemming Dalgaard.
Do you want to be kept up to date with the latest developments in Danish and International shipping? Subscribe to our newsletter – first 40 days are free
DP World saw less activity in the first half of the year
Triple-E ships force ports to invest billions of dollars
APM Terminals close to securing 240 mil. USD deal in India
Drewry: Solid developments for DP World