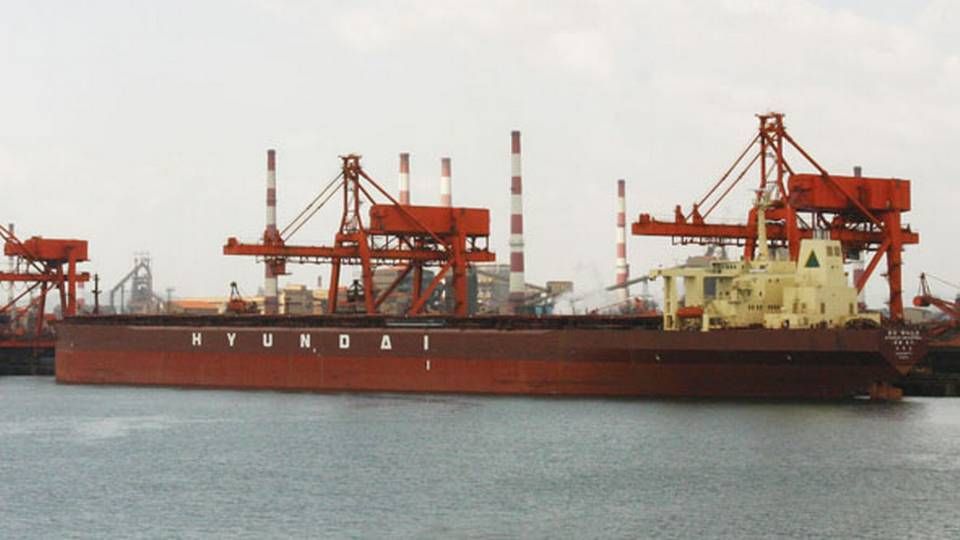 One of the world's largest shipping group's, South Korea's Hyundai Merchant Marine, is facing such severe financial difficulties that the company's senior management, in a letter to all its business partners, threatens that the carrier could enter receivership unless the container and bulk carriers who have signed charter contracts with HMM agree to new - and significantly cheaper - charter conditions.
ShippingWatch is in possession of the letter, which is dated February 1st this year and was thus sent to stakeholders prior to last week's reports that HMM was looking into the market for a possible sale of the group's dry bulk fleet. In any case, the letter - which is signed by Hyundai Merchant Marine CEO Paik Hoon Lee - confirms the fundamental severity of the company's crisis, and that a long line of players in the container and bulk sectors could face major losses. Either because they are forced to sign completely new charter contracts with HMM or because the Korean shipping giant could be forced to seek court protection.
The letter states the following:
"We envisage a consensual restructuring in which all of our stakeholders will make en equitable contribution to the recovery of the company. It is critical to understand that HMM's financial difficulties cannot be solved by dealing with its financial liabilities alone. Unless the time charter payments are significantly reduced as well, the company cannot survive. We expect to obtain commitments from our financial creditors that together with a commensurate effort for a limited period of time from our shipowners will enable HMM to begin a period of recovery. Unless we are successful in obtaining the agreement of all our stakeholders, HMM will have no choice but to seek court protection under Korean bankruptcy laws, a result that is virtually certain to result in a substantially less favorable outcome for all concerned than a consensual restructuring."
Dry bulk behemoth Daiichi misses restructuring deadline
Paik Hoon Lee, in the letter, goes on to explain how HMM wound in the dire state as is the case. This development is not least tied to the extremely weak market conditions that have hit a majority of players in the shipping industry, and it can be traced to the overcapacity of vessels in the container sector as well as in the dry bulk sector. And the dire state is also a result of the steep slowdown in China's economic growth, which pulled the rug out from under HMM's business model.
The chartering agreements HMM has signed with shipowners are so costly that HMM is no longer able to comply the payments, and the Korean shipping group is thus on track to join the list of Asian maritime businesses which are placing financial pressure - in some cases extreme financial pressure - on other players who are forced to book massive losses when counterparties are unable to fulfill signed contracts. Factors such as these have hit carriers in the past, including Denmark's J. Lauritzen.
Korea's HMM could sell dry bulk unit
HMM writes in the letter that the market conditions have been particularly challenging to the group:
"As a consequence of this, and despite the implementation of drastic cost-cutting measures, HMM's liquidity position has continued to deteriorate to the point where it cannot continue to operate much longer without substantial relief from the shipowners which own and operate vessels time chartered to HMM and from its financial creditors."
Hyundai Merchant Marine is currently in talks with equity fund Hahn & Company concerning a sale of the carrier's complete dry bulk fleet for a total USD 500 million, as the company confirmed in a press release last week according to Reuters, after Korea Economic Daily earlier that same day reported, citing unnamed sources, that the Korean shipping giant was considering a sale of its dry bulk unit for USD 497 million.
Both Hyundai Merchant Marine and Hanjin Shipping, South Korea's two largest shipping conglomerates, are facing massive financial difficulties, and both companies saw their Seoul-listed shares plunge last month after Hanjin Shipping had its credit rating lowered by Korea Ratings (Fitch Rating, -ed.)
Try a free 40-day trial subscription to ShippingWatch
The Hyundai share slid 17 percent last week to the lowest level in 12 years following speculations that the group could be forced to file for receivership due to its difficulties meeting financial covenants with its banks. The biggest creditor is Korea Development Bank.
The letter to the many stakeholders calls for meetings with the Korean shipping giant's management team in an effort to set up new agreements. The letter does not reveal in detail the reduced contract prices shipowners and operators will be presented with.
Read more about Hyundai Merchant Marine (HMM)
Analysis: Korean carriers caught in container trap
Hanjin and Hyundai Merchant in free-fall