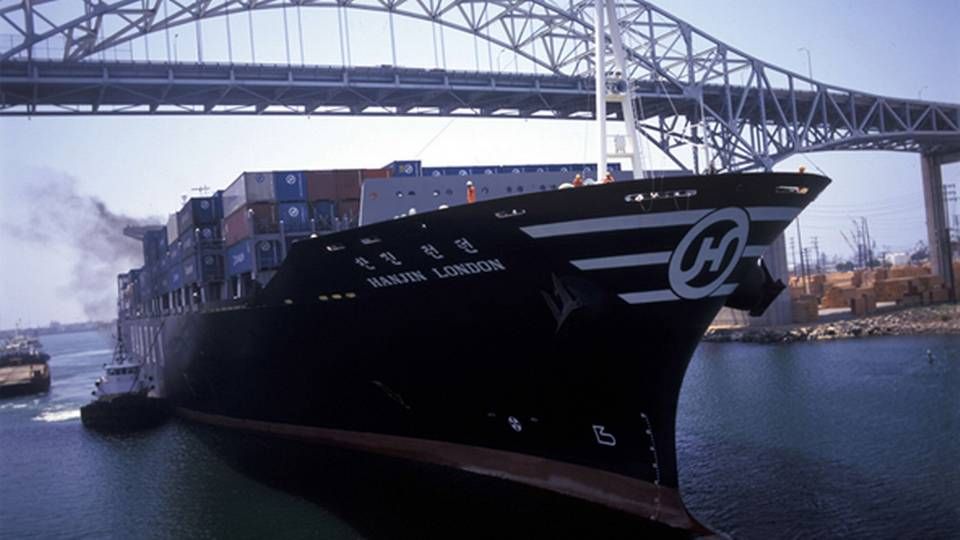 Updated at 10:49 am CET to reflect that 45 Hanjin vessels are now stranded around the world.
South Korea's Hanjin Shipping's decision on Wednesday to file for court receivership at the Seoul Central District Court has now been approved, and the struggling shipping group now faces a comprehensive rehabilitation process headed by a new management, rather than liquidation.
"We decided quickly to begin court receivership for Hanjin Shipping, the country's leading shipper and on of the world's major container shipping liners, given its presence in the local shipping industry and its impact on the economy as a whole," said the Seoul Central District Court according to Korean news agency Yonhap.
Hanjin Shipping sent shock waves through both the Korean and international shipping sphere with its filing for court receivership on Wednesday. The decision triggered massive concerns among shipowners with vessels on charter with the container carrier, as well as among shippers, for whom Hanjin Shipping handles a big part of the country's exports.
It was revealed already on Thursday that several of the carrier's vessels had been arrested, in ports such as Singapore, Shanghai and Xiangang, while numerous ships were reported stranded off the US West Coast, deemed unable to pay for port services. And the number of stranded ships has soared in the subsequent 24 hours.
To make matters worse, Hanjin Shipping has also been suspended as member of the CKYHE container alliance, which also includes China's Cosco as well as Taiwan's Evergreen, according to Reuters. French container carrier CMA CGM, which partners with Hanjin on five routes, has announced that the carrier has canceled all five contracts with Hanjin, effective immediately. And CMA CGM will no longer load containers onto Hanjin's vessels.
Maersk Line only expects a modest impact following Hanjin Shipping's receivership, informs the Danish carrier, which has a Vessel Sharing Agreement, VSA, with Hanjin on routes between Northeast Asia and the east coast of India
"We have stopped booking cargo on Hanjin-owned vessels, and we will continue to monitor the situation," writes Maersk Line in a statement.
45 ships stranded
Hanjin Shipping informs around noon Friday CET that 45 of the carrier's vessels are stranded around the world, unable to call in ports, reports news agency Yonhap.
The vessels include 41 container ships, with one of these has been denied entry to the Suez Canal.
The Korea International Trade Association estimated earlier Friday that around 10 vessels have been arrested in China.
The receivership of Hanjin Shipping, which according to several analysts will enable the carrier to actually get back on its feet, has in just a few days hit big parts of the supply chain in the international container sector, especially on routes to the USA and in US retail trade.
Hanjin Shipping has handled close to eight percent of the cargo volumes traversing the Pacific to the US market where the The National Retail Federation has appealed to the government in Washington, DC, to work closely with authorities in South Korea, and the federation has also warned of severe consequences for consumers as well as the US economy overall.
Shippers to take big hit
Hanjin Shipping's role as South Korea's biggest, and the world's seventh-largest, container carrier means that the clean-up process and the subsequent uncertainties will undoubtedly hit the container sector's customers hard.
Major shippers such as Samsung Electronics and LG Electronics depend big-time on the carrier for their exports.
"Unpredictable freight rates are not new phenomenon in the container industry, however a major upheaval of supply like this is likely to cause extreme short-term price volatility. Shippers should expect increasing freight costs and tight allocation for several weeks at least," projects Richard Heath, general manager of Drewry's World Container Index, in an update on the Hanjin Shipping situation.
Hyundai to deploy vessels to help Hanjin customers
The first Hanjin vessels have been arrested
Three Hanjin ships stranded off US as carrier seeks protection
Korea's FSC to minimize impact of Hanjin's collapse with acquisitions