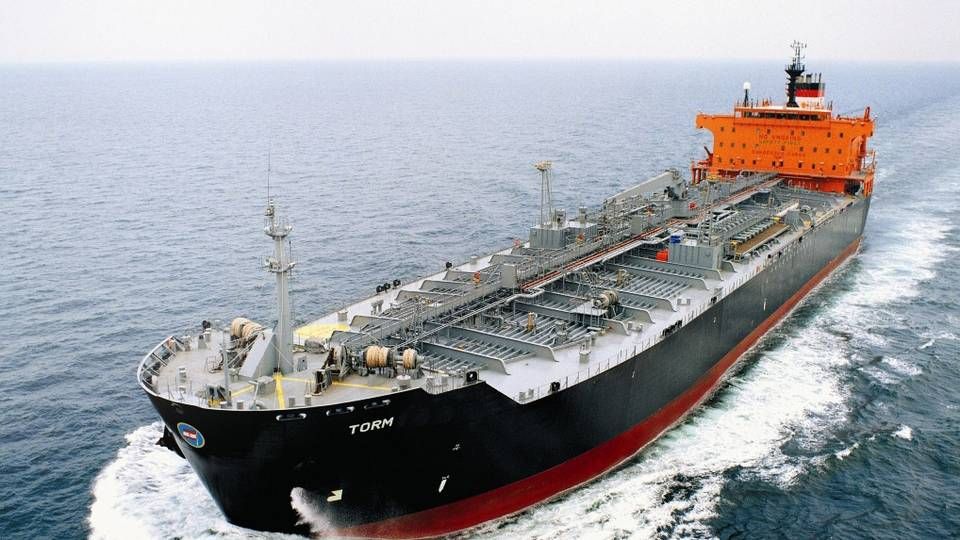 Torm's aging fleet with an average age of around ten years seems to still be able to match carriers in the MR medium product tanker segment with significantly more fuel-efficient and newly built eco-design vessels in their fleets - ships that were especially ordered toward the end of the international financial crisis where prices were at rock bottom.
Do you want to stay up to date on the latest developments in International shipping? Subscribe to our newsletter – the first 40 days are free
A review of select carriers that have published TCE numbers for 2014 on average earnings shows that the daily profit for carriers Torm, Scorpio Tankers, Ardmore, Frontline 2012 and Norden all remained within an interval of around USD 14,500 per day to USD 16,600 per day in the MR (Medium Range) segment.
The John Fredriksen-controlled carrier Frontline 2012, whose biggest segment is crude oil, delivered the best result across the board in 2014 with a combined TCE (Time Charter Equivalent), including spot, time-charter and coverage from earlier periods, of USD 16,600 per day in MR, while Torm achieved a result of USD 14,697 in its largest segment.
Analysts: Did Scorpio miss out on product tanker rebound?
Similarly, US-based Scorpio Tankers, which is currently amassing the world's largest eco-design product tanker fleet, delivered a TCE result last year of USD 15,297 per day, while Norden's MR product tanker vessels achieved average daily earnings of USD 15,180.
Irish-based Ardmore, listed on the New York Stock Exchange like Scorpio Tankers, reached a 2014 TCE of USD 15,913 for its eco-design fleet. The carrier's upgraded (retrofit) MR vessels made an average USD 14,793 per day.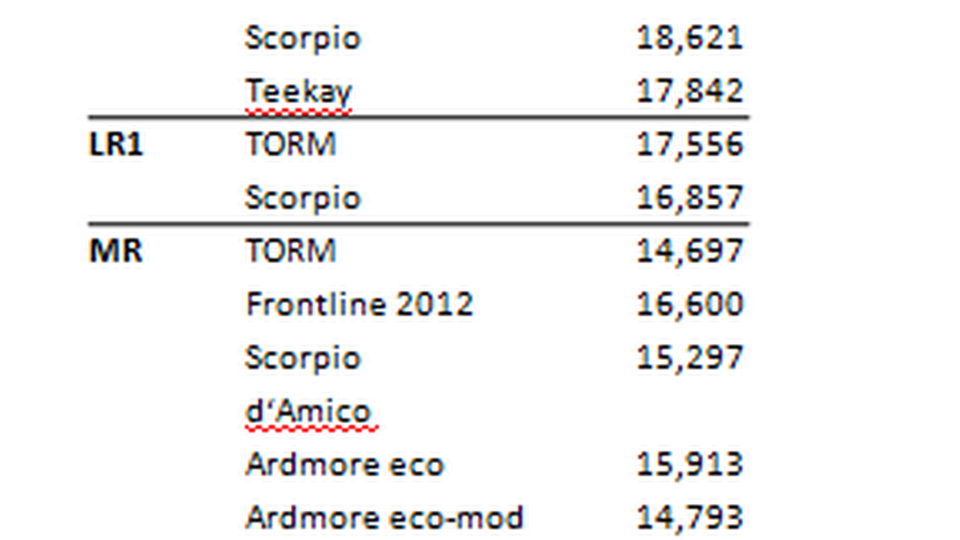 Even though the TCE numbers represent a snapshot that could easily change, and which can in periods depend on the ships' positions, Torm's operational platform during the heavily indebted carrier's struggle to survive through negotiations with lenders in recent years has previously shown that the carrier so far has been able to match the new eco-design fleets that, in 2015, will have to start delivering for real following the massive billion dollar newbuilding investments in recent years.
Torm beats its competitors on operating profits
In terms of the major product tanker vessels, Torm did not hit the "board" to the same extent as Scorpio Tankers and Teekay Tankers for LR2, Long Range Two, as the latter two achieved TCE earnings here of USD 18,621 per day and USD 17,842, respectively, while Torm's LR2 ships made USD 15,413 per day. On the other hand, Torm's LR1 vessels made USD 17,556 compared to Scorpio's USD 16,857 per day.
The product tanker market as a whole finished the year in strong form, while the first half of the year was weaker than expected.
Soaring product tanker rates on the Atlantic
While there seems to be no doubt that the new eco-design vessels can deliver bigger profits to their owners through reduced fuel consumption, it remains an open question how much more eco-design vessels can earn compared to, for instance, retrofitted traditional tonnage.
With a high number of newbuildings set for delivery in the product tanker segment, this year should be able to answer some of the questions that the shipping industry has been debating for years.
Do you want to stay up to date on the latest developments in International shipping? Subscribe to our newsletter – the first 40 days are free
Numerous players in the shipping industry are waiting for more comprehensive data over a longer period of time in order to see how big the difference really is, as there are many factors in play once a ship hits the water. In product tanker, many ships spend a great deal of time berthed in ports, which means that eco-design vessels will likely often have difficulties delivering on the promises of fuel savings upwards of several thousand dollars per day.
The benefit of eco-design
The massive slide in the oil price since October last year has also further reduced the benefit gains from eco-design vessels.
"If one estimates a saving of for instance 5-7 tons fuel per day for an MR (Medium Range product tanker) at a time when the bunker price was USD 600 per ton, the expected saving would be USD 3,000-4,000 per day. But after the oil price has been cut almost in half, the eco-design savings will also be cut in half," Frode Mørkedal, Equity Research at Oslo-based analyst agency RS Platou Markets, tells ShippingWatch.
Do you want to stay up to date on the latest developments in International shipping? Subscribe to our newsletter – the first 40 days are free
In spite of the eroded financial gains on fuel savings, due to the declining oil price, Frode Mørkedal still estimates that the newbuildings face better prospects than older ships.
"Charterers prefer newer tonnage, which will thus be employed first. And if the ships were purchased at attractive newbuilding prices they will also feature lower break-even costs."
Torm made USD 77 million operating profit in 2014
VLCC divestments drove Scorpio Tankers' profit in 2014
Ardmore ended 3rd quarter with a small profit