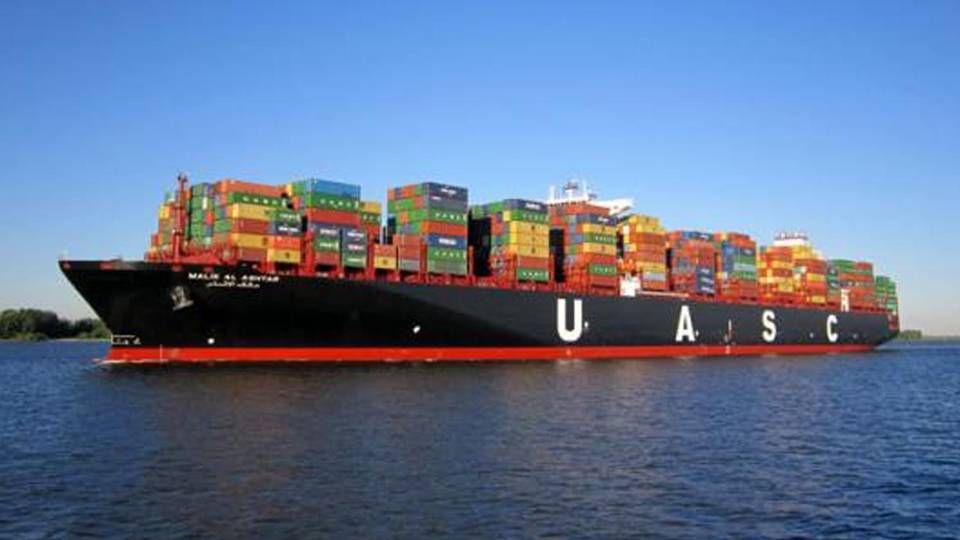 Even though the world's 12 largest container carriers still look set to dominate the market until at least 2014, United Arab Shipping Company's (UASC) most recent newbuilding order of 10 major container ships constitutes a challenge, writes Drewry.
Do you want to stay up to date on the latest developments in Danish and International shipping? Subscribe to our newsletter – first 40 days are free
The order for 5 x 18,000 teu and 5 x 14,000 teu to be delivered from late 2014 to mid-2015 will increase the Dubai-based carrer's total capacity by 60 percent, thus boosting the carrier from the bottom of the Top 20 and into the lower end of the Top 12.
The order confirms UASC's ambitions of expanding the carrier's presence on Asia-Europe, though it remains unclear how these ambitions will be realized, notes Drewry, though the analysts do refer to United Arab Shipping Company's total order as the first major challenge to the biggest players since Coscon and CSCL burst onto the container market in the late 1990s.
UASC signs USD 2.5 bln deal with Hyundai
The timing in the delivery of the 5 x 18,000 teu ships for UASC combined with its partner CSCL's 5 x 18,400 teu ships means, among other things, that a new weekly string between can be established between Asia and Northern Europe.
The world's 12 largest container carriers are all focusing on further upgrading their fleets, from 10,000 - 13,000 teu to between 14,000 - 18,000 teu in order to achieve economies of scale, which means they probably aren't too concerned about UASC's expansion. The only cause for concern is the fact that the carrier contributes further to the overcapacity, though the state-owned Middle Eastern carrier only controlled 1.5 percent of the industry's capacity by October 2012 and will continue to control less than two percent until the end of 2014, when the first newbuilding will be delivered.
"UASC will seek to join forces with other like-minded ocean carriers in the Asia/Europe tradelane in order to establish enough service frequency to take on the remaining big players," says Drewry.
Do you want to stay up to date on the latest developments in Danish and International shipping? Subscribe to our newsletter – first 40 days are free
Jørn Hinge: New fleet will strengthen us globally
Arabian UASC wants to beat Maersk's mega ships