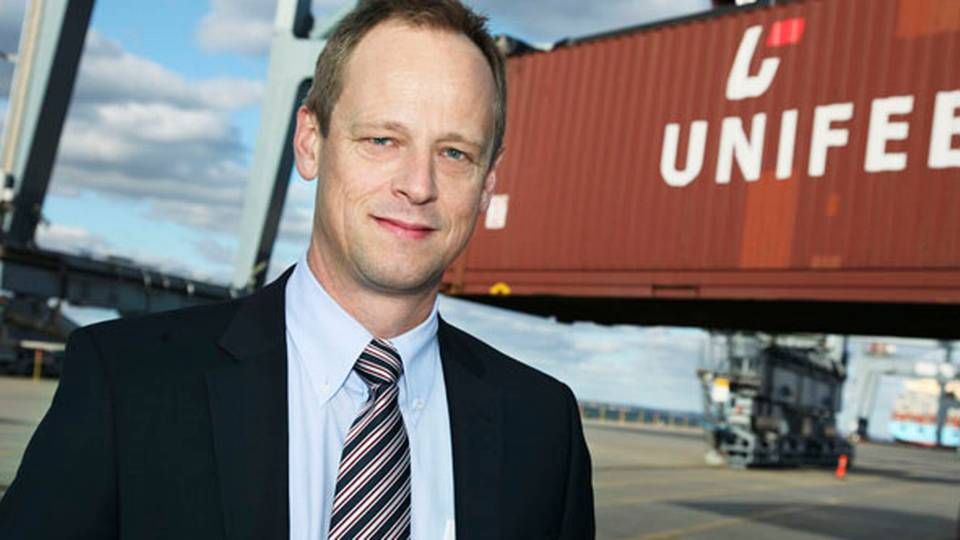 Big deep sea container carriers' previously announced plans to take over a large part of the feeder traffic themselves seem to have faded away.
At least for Danish Unifeeder, one of Europe's largest feeder carriers, which during the last half of 2014 in particular won a significantly large share of freight volumes back for its vessels, from customers who had previously insourced this service.
But the development can fluctuate severely from year to year, with the large carriers either opting to utilize their own vessels or outsource to specialized carriers such as Unifeeder.
Do you want to stay up to date on the latest developments in International shipping? Subscribe to our newsletter – the first 40 days are free
"We see a rise and fall tendency over time, where carriers make use of outsourced solutions by asking us to transport their containers, either because we have a larger scale or cover areas that they themselves cannot do in a competitive manner," Jesper Kristensen, CEO of Unifeeder,tells ShippingWatch:
"In all the years I've been a part of this, it has been like a pendulum swinging. Back in 2013, we saw that many players had insourced a relatively large portion of their freight volumes, as - for strategical reason perhaps - they had decided to cover the market with their own product all the way to the customer's doorstep. But everyone's got a lot of focus on costs when the market is under pressure, and some may decide that they can do it cheaper by outsourcing feeder service."
More containers in 2014
In 2014, Unifeeder freighted more containers than in the previous year, but for lower rates in a very competitive market where significantly declining freight rates into Russia also had direct as well as diverted consequences for the feeder market in the entire Baltic region.
Unifeeder impacted by decline in Russian market
Meanwhile the congestion at several major ports in Europe, derived from fluctuating freight volumes, new sailing schedules, and not least bigger container ships, has been costly. For Unifeeder as well.
Last year, the carrier achieved a net profit of USD 32.5 million compared to USD 34.6 million in the previous year, and a revenue in 2014 of USD 446 million compared to about 470 million in the previous year.
Vessel sharing agreements
According to the management report for 2014, Unifeeder has entered into numerous deals with other operators in the feeder market, so-called vessel sharing agreements.
"Some players have seen the possibilities in connecting to our somewhat bigger scale and get some of the advantages that we can give them, so that they can avoid connecting to a network that may be ten percent of ours. The unit costs in a system like ours depend on scale and the development for us in regard to these deals is relatively significant," says Jesper Kristensen.
Unifeeder enters global Top 30
In Jesper Kristensen's own words, Unifeeder is currently more engaged in the Mediterranean than the company has ever been. Back in 2013, the carrier acquired United Feeder Services, which sent Unifeeder into the global top 30 among the world's largest feeder operators, while the acquisition at the same time fortified the company's position as Europe's largest.
Progress in Southern Europe
Measured in transported containers, the Mediterranean currently constitutes about a third of Unifeeder's business with two thirds in North Europe. And Jesper Kristensen eyes a shift on the long term, where activities in Southern Europe will grow more than the North European business:
"In general, there is a little more speed and more dynamic down there including North Africa, Egypt, the Black Sea and Turkey, where some of the Southern European economies will develop more on the export side than up here in the North, where we are also feeling the slowdown in Russia."
Photo: Unifeeder
In 2014, Unifeeder has undergone significant changes in the organization, with the creation of a service center in Poland to handle all back office functions in the company. The change resulted in layoffs for 25-30 employees from various places in Unifeeder's offices. In total, there were more people employed by Unifeeder exiting 2014 than in the previous year.
Do you want to stay up to date on the latest developments in International shipping? Subscribe to our newsletter – the first 40 days are free
Management at Unifeeder expressed in the 2014 annual report released Tuesday, contentment with the result even though it was a little lower than expected at the beginning of the year.
"For 2015, we don't actually expect that the market will grow a whole lot, at least not for North Europe in the short term. We are not seeing impressive volumes right now on the big trades, but we can hope that this will correct itself later in the summer," says Jesper Kristensen.
Unifeeder affected by severe competition in North Europe
Port of Hamburg: The entire Baltic Sea is hit by Russia's downturn